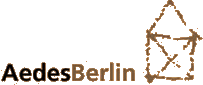 AedesBerlin Architekturforum und Verlag, wurde 1980 als erste private Architekturgalerie Europas ins Leben gerufen. Mit fast 300 Ausstellungen renommierter Architekturbüros wie auch der Präsentation junger, experimenteller Architektur ist AedesBerlin zu einem internationalen Markenzeichen für Architekturkultur geworden und zählt weltweit zu den angesehensten Orten seiner Art.
In zwei repräsentativen Ausstellungsorten in Berlin, Hackesche Höfe und Savignyplatz, finden jährlich ca. 18-20 Ausstellungen im Bereich Architektur und Städtebau statt. Darüber hinaus ist Aedes mit seinen Symposien, Workshops, Vorträgen und Diskussionen ein lebendiges Forum für die Auseinandersetzung mit Architektur und Stadtkultur. Beide Ausstellungsorte in Berlin werden jährlich von insgesamt ca. 160.000 Besuchern aufgesucht.

AedesBerlin architecture forum and publisher, was founded in 1980 as the first private architecture gallery in Europe. AedesBerlin has developed to an international trademark for architectureal culture, presenting almost 300 exhibits of renowned architects, as well as cutting-edge, experimental architecture.
Roughly 18-20 exhibits occur each year in the two representative galleries in Berlin (Hackesche Höfe and Savignyplatz), covering the fields of architecture and city planning. In addition, with its symposiums, workshops, lectures, and discussions, Aedes serves as a rich forum for the examination of architecture and urban culture. Both exhibition sites in Berlin are visited anually by together around 160.000 people.


Baulabor und Experimentierstudio der internationalen Nachwuchsavantgarde -Der Spiegel /// Worldwide unique - Manager Magazin /// Alle Stars mussten hier durch - taz /// The world architecture scene can't miss you - F.O. Gehry, Los Angeles /// Since years in Aedes we found an innovative partner in the communication of our company. Kristin Feireiss and Hans-Jürgen Commerell with their world-wide reputation in the architectural avantgarde, have my full respect for their commitment to architecture - Jürg Zumtobel /// Kristin Feireiss - die Mutter Courage der Architektur - Bauwelt /// A major contribution to the discipline made by curatorial intelligence. In this Aedes is a pioneer - Leo van Schaik, RMIT, Melbourne