icon 050: august 2007 [UK]
To celebrate icon's 50th issue, we called in manifestos from 50 of the most influential people in architecture and design. Contributors include Rem Koolhaas, John Maeda, Zaha Hadid, Hussein Chalayan, Jasper Morrison, Peter Eisenman, Peter Saville, Foreign Office Architects, Joep van Lieshout, the Bouroullecs and Ken Livingstone.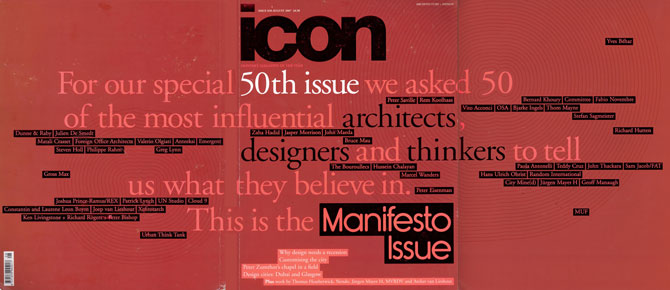 50 Manifestos:
Vito Acconci, Anteeksi, Paola Antonelli, Yves Béhar, The Bouroulecs, Constantin+ Laurene Leon Boym, Hussein Chalayan, City Mine(d), Committee, Matali Crasset, Teddy Cruz, Hernan Diaz-Alonso/Xefirotarch, Dunne & Raby, Peter Eisenman, Foreign Office Architects, Gross Max, Zaha Hadid, Steven Holl, Richard Huttan, Bjarke Ingels/Big, Sam Jacob/Fat, Bernhard Khoury, Rem Koolhaas, Joep van Lieshout, Ken Livingstone + Richard Rogers + Peter Bishop, Patrick Lynch, Greg Lynn, John Maeda, Geoff Manaugh, Bruce Mau, Jürgen Mayer H, Jasper Morrison, MUF, Fabio Novembre, Hans Ulrich Obrist, Valerio Olgiati, OSA (Office for Subversive Architecture), Joshua Prince-Ramus/Rex, Philippe Rahm, Random International, Enric Ruiz-Geli/Cloud 9, Stefan Sagmeister, Peter Saville, Julien de Smedt/JDS Architects, UN Studio, Urban Think Tank, Marcel Wanders, Tom Wiscombe/Emergent.