City Arts
Public Space as a Laboratory - New approaches to informal urban design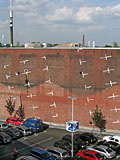 anwohnerpark - osa
There has been a huge shift in the perception of cities and of urban and suburban spaces in Germany in the last fifteen years, as there has been in other European countries, too. At least, that is true among those who occupy themselves professionally with the phenomenon of metropoles and megacities, i.e. architects and planners, artists and theoreticians. Within this group, it is especially true of younger people who were not personally influenced by the ideological and aesthetic debates of the sixties, seventies and eighties.
They want to and have to find their own positions on old and new questions of urban life. This inevitably has involved broadening their horizons as a result of discourses on globalisation, extremely dynamic developments in Asia and cheap flights. Their perspective on current urban landscapes is primarily influenced by their search for undiscovered or disregarded potential and by them taking a fresh look at aesthetic and atmospheric qualities, which also means re-assessing them. Large-dimensioned design tasks have become rare in Europe and it therefore appears to have become unattractive to write manifestos on architecture and urban construction or to establish (stylistic) movements. Looking at China is probably enough to make such notions appear somewhat naive and idyllising.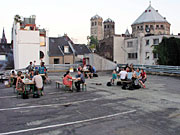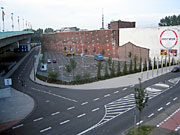 Actionist pleasure in experimentation
The methods and strategies with which ambitious younger and young architects carry out their analyses and experiments have also undergone dramatic change. The proximity of urban planners and architects to artistic approaches on the one hand and the great interest among artists and cultural theoreticians in these subjects on the other hand has led to a great many mainly temporary projects which are playful, symbolic and metaphorical, but also quite concrete, pragmatic or even of a social policy nature. This kind of actionist enjoyment of experimentation and openness is reminiscent of the activities of the sixties and early seventies, but it is completely devoid of the revolutionary Utopian context of that time. Although the respective positions and intentions are so different, they all share a common interest in bringing about a change in perceptions, seeing situations, spaces, settings and areas of the city's construction and structural context in a different way and drawing productive conclusions.
This perspective is significantly influenced by a new photographic perception established in particular by Bernd Becher's students at the Düsseldorf Art Academy, such as Andreas Gursky, Thomas Struth, Axel Hütte and Boris Becker. The artist Boris Sieverts, son of the well-known urban planner Tom Sieverts, on the other hand, has been making it possible for years to experience certain elements of urban landscapes very directly in his Büro für Städtereisen. He takes groups on extensive tours through the outskirts and non-site zones of cities. To date these have been in the Ruhrgebiet, Cologne, Paris, Orleans and Rotterdam. In so doing, he aims to make it possible to experience a structural wealth that remains hidden from conventional view and attempts to communicate new aesthetic and emotional connotations. A typical situative and atmospheric reinterpretation was his "Park Deck Restaurant", realised during the architecture week plan03 in Cologne. He issued invitations to come to the top floor of a city-centre car-park to have grilled fish and cooled white wine during the summer weather. With a view of the surrounding houses, visitors enjoyed a light Mediterranean mood that transcended the tristesse that usually prevails in such places.
A similar approach to raising an awareness of urban landscapes is taken by Bertram Weisshaar's Atelier Latent (formerly Atelier für Spaziergangsforschung) in Leipzig.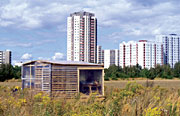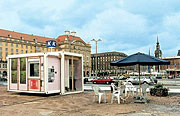 Interventions in public space
But specific interventions, too, whether they be provocative, poetic, didactic or socially committed, or all of these things at the same time, can be referred to as an approach that has been well-tested by artists. The tradition of interventionist installations is continued by Berlin artists Folke Köbberling and Martin Kaltwasser in an apparently naively pragmatic way with the houses they make themselves from materials that can be obtained for nothing. One should not overlook the subversive content inherent in such artistic activities. Central questions concerning ownership, statutory provisions, decision-making structures and hierarchies, asserted and actual functionality and aesthetic ideas are implicitly or explicitly asked.
Projects such as the Info Offspring Kiosk by Eva Hertzsch and Adam Page, which has been in existence in Dresden since 2000, have become factors influencing local politics and have had an amazing socio-cultural impact. The Kiosk is accommodated in a mobile container and provides information as well as leisure and cultural activities, permanently symbolising successful civic commitment and urban quality of life beyond the shopping malls. The Leipzig architects' bureau KARO (the abbreviation stands for "Kommunikation Architektur RaumOrdnung" (i.e. "Communication, Architecture, SpaceOrder"), which co-initiated a temporary district library in 2005, works in a very similar way. A construction made out of stacks of drinks crates was built on a derelict site where a library building actually had once stood and it was made into an informal library with books donated by local residents. And the Düsseldorf artists' initiative stadtraum.org by Markus Ambach and Andrea Knobloch not only calls for a different relationship between art and the public space in its events and activities, but also more democratic and more creative urban planning. It attempts to make decision-making processes in urban planning and design transparent and to influence them by bringing unconventional concepts into the discussion.
The achievements of the group of architects osa – office for subversive architecture, on the other hand, whose members are scattered across national borders, are worthy of being called art. Their interventions and installations not only display a certain penchant for smugness, but above all great imagination in creating striking images of the urban space with sometimes surreal overtones. The members of the raumlabor_berlin group, too, most of whom are architects and urban planners, like to move in artistic contexts that offer certain freedoms. As part of the Munich art project Ortstermine 2006, they arranged an invasion of silver cars to occupy the parking spaces in the quiet residential suburb of Stadelheim according to a certain "choreography", to irritating effect.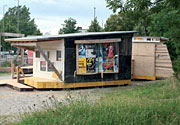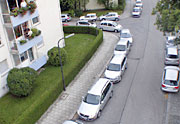 As part of the Berlin project Temporäre Gärten, but particularly in the context of the annual international architecture week plan held on Cologne, the landscape architect Jörg Rekittke has repeatedly carried out activities that playfully deal with basic urban design and lifestyle questions. In them, often in cooperation with the urban planner and architect Andreas Fritzen, he has attempted to call into question or counteract clichés and hastily-reached judgements among architects and "non-professionals" alike. His activities have included organising excursions to model house residential areas to establish what "normal consumers" really hanker after, and equipping student test persons with just the bare essentials for living in a city for a week in order to find out what the supposedly nomadic metropolitan existence is really like.
Of course, the above-mentioned groups, people and projects can only represent a small selection. "Informal" urban research and design has meanwhile become a wide field in which there is much to be discovered. However, one question that remains is to what extent that will affect the general reality of planning and design and how permanent that effect will be. These activities have led to one or two professorships already, at least, so that at least a certain influence on teaching may be regarded as certain.

Kay von Keitz
is a freelance architecture and art critic, publicist and initiator and curator of the international architecture festival "plan" in Cologne.
Translation: Eileen Flügel
Copyright: Goethe-Institut, Online Editorial Team
Any questions about this article? Please write!


online-redaktion@goethe.de
February 2007

Related links

Büro für Städtereisen – Boris Sieverts

Atelier Latent

Folke Köbberling

Info Offspring

stadtraum.org

osa – office for subversive architecture

Raumlabor Berlin

Temporäre Gärten




Urban Catalyst

bb22 | urbane projekte is a working community of architects, designers and urban planners as well as art historians, economists, journalists and film and book authors.


Raumtaktik