Urban Oasis
Urban Oasis is a grass-covered bar, where people can take their lunch, a drink or meet friends in a different urban setting.
The Urban Oasis is at the Piccadilly Basin, Dale Street in the Northern Quarter from Wed 3 to Wed 10 Aug
For one week only, Dale Street in the Northern Quarter will become a grass-covered bar of natural wonders. It's all part of the Office of Subversive Architecture's latest project, Urban Oasis, which comes to Manchester with a little help from Urbis. The osa are a group of architects committed to making the link between art and architecture that challenges people's concepts of public space. We asked Bernd Truempler to explain the ideas within Urban Oasis and osa.
How did you get involved with the design of the Urban Oasis?
"Cow PR has seen projects osa has done in the past. Because they were looking for a more concept-led approach for their promotional campaign than a conventional brand focused campaign, they called us and asked for an idea after they briefed us."
Was it a difficult concept to bring to life?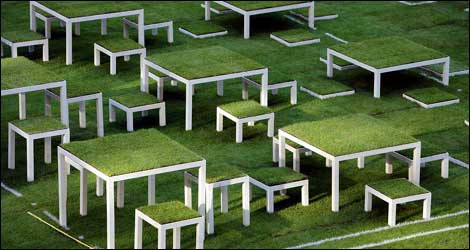 Even the tables and chairs need mowing!
"As soon as we presented the idea and the concept to them, they loved it and supported our work. We only had problems with the short time frame. We had only three days in London and have also three days in Manchester for the set-up. Therefore it was necessary to prefabricate all elements in our workshop in Cologne in a two week period. They have been very progressive and left us the space for developing our ideas because they agreed that we would consider the project if the branding is been treated in a very subtle way."
Where does it fit in with the rest of your work?
"Every new project is a new experience for us. Even exhibitions we take part in are projects for us and we won't just show our work. After Intact, the illegal makeover of the signal box (in London), it was challenging for us to do a project which is almost the opposite regarding the conditions – legal and paid.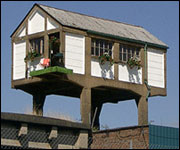 osa's Intact
But conceptually it has exactly the same approach. We again are looking at derelict spaces and challenging people's view in a different direction. We are provoking awareness and discussions about public space. This, by the way, stands for the subversiveness in our work."

What is the philosophy behind the Office For Subversive Architecture?

"osa is a network of eight full time architects in five different cities and three different countries. We are actively involved in developing projects that work between art and architecture. The work is focused on the reinterpretation of public space, on its use and how people interact with it. We have new untraditional problem approaches and attempts to find appropriate solutions beyond the limitations of common architectural practise. osa's urban interventions can help discovering lacks of urban developments and kick off discussions and improvements of neglected spaces. We often collaborate with professionals from different disciplines. This enables us to spread our ideas by using urbanism, architecture, art, music, videos, photographs, sculptures…"
You've been called guerrilla architects, what do you say to that?
"Guerrilla is taken from the Spanish word 'guerra' meaning war. It's something destructive, but our work is rather constructive."
Bernd Truempler on being branded guerrilla architects
"Guerrilla is taken from the Spanish word 'guerra' meaning war. It's something destructive, but our work is rather constructive. The word might fit to the makeover of the signal box but not if you consider our whole work over the last eight years."
Which project are you most proud of and is there a place that you'd really love to give the osa treatment?
"There is no particular project we are 'proud' of. Our concept of communication is based on the fact that we try to misunderstand and contradict ourselves to achieve the best results in surrealism and quirkiness. Our projects are always questions about space not answers. Therefore there are millions of places we'd love to give an osa treatment."