the guardian
urban oasis supplement 23/07/05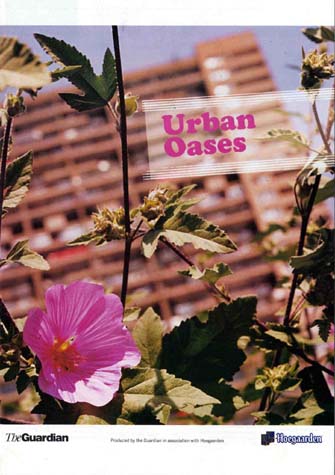 Article in the Urban Oasis supplement, The Guardian,
Saturday 23rd July 2005

There's never been a pub like it. An Alpine cow bell rings to signify last orders at the
grass-topped bar but we're not in the Swiss countryside, we're in the heart of the
very urban setting of Broadgate in the City of London. And frankly, we're just a little
confused.This pub is busy but no money is changing hands at the till and no pints
are being pulled. When punters stand up to make their exit, they tread on lush green
grass rather than sticky hard floorboards. Instead of the dark bentwood chairs that
are the staple of so many British pubs, these regulars can make themselves
comfortable on turfed chairs and tables that appear to be growing out of the grassy
floor. And most noticeably, there are no walls.
This surreal installation is set up to intrigue regulars of the Broadgate office complex
from July 20 before moving on to a further site in Manchester. It is the first of two
Urban Oases being built this summer as part of a novel promotional campaign for the
Hoegaarden beer brand. Rather than carry out a conventional brand-focused
advertising campaign, Hoegaarden opted for a more concept-led approach to create
urban oases in the city environment that act as chill-out zones away from all the
hustle and bustle of inner city living. The idea is that the concept of a "natural" pub
broadly conveys the brand's use of natural ingredients, such as coriander and
orange. But above all, the oasis is intended to be a space that the public can enjoy
and relate to: signs tell passers-by to keep on rather than off the grass and grass
maps around Broadgate direct pedestrians to the temporary installation.
The creative team behind this is the Office for Subversive Architecture, a network of
eight like-minded architects scattered among five European cities who are rather less
scary than their name suggests. "We're not trying to be negative or destructive.
We're subversive in that we're challenging people's view in a different direction,"
says OSA member Karsten Huneck.
They met at university in Frankfurt back in 1996 and come together now and again
for OSA projects as a break from the usual commercial constraints of their day jobs.
The result has been a succession of off-beat art/architecture installations dealing
with the reinterpretation of public space which brought the group to the attention of
Hoegaarden's promotional team. A recent one in Bristol installed periscopes fitted
with DVD images into neglected squres in an attempt to get people to see their
surroundings in a different light. Earlier projects included the temporary
transformation of a redundant railway signal box in east London into a typical
suburban family home, and London Roof, an "architectural" involving a fluid roof
made of 250 umbrellas over Trafalgar Square.
Urban Oasis fits perfectly into this quirky pedigree of projects. OSA was keen that the
installation should be subtle rather than overt in its promotion of the brand. "In a city
like London you get so many adverts, so many colours. I believe this project is more
powerful and people will remember it more than big banners," says OSA's Bernd
Truempler. Osa's concept for this pseudo pub came from the idea of the "pub" as
being derived from public space. In Germany, where many of the OSA are from, ther
is a strong tradition of the beer garden and outside space as part of the bar; OSA
combined these ideas in their oasis. They decided to use the lawn as the base for an
architectural plan of a bar on a 1:1 scale. The rectangular plan shape is deliberately
unyielding to the circular site for maximum visual impact. On the one hand, its
incongruity makes it look like it's just landed, but on the other hand, the turf makes
it appear rooted in its surroundings.
First the lawn is laid on top of a timber structure, then the plan of a 60-seater bar is
drawn on the lawn using machines normally used for painting on sports lines. These
include the tables and chairs, bar, stools, windows and walls. Even the outswing of
the doors, normally dotted on a plan, is included as a line on the grass. A surreal
touch is added by the inclusion of a box on the turf with the project titles normally
found on a 2D plan. The line drawing, anticipated OSA's Karsten and Bernd, is likely
to be the hardest part of the whole project to execute.
Next will come the turfed-topped furniture. Nearest the entrance it is low lying so
that users are literally immersed in nature, rising up in height until it reaches the bar
counter with a full-height bar. Instead of the customary bank of obscure spirit bottles
found behind the bars of most pubs, this has a display of flowers interspersed with
Hoegaarden bottles and branding.
OSA's Bernd hopes that the oasis will provoke discussions among those who see it
about how they inhabit their environment, in particular the potential of city public
spaces. It may even provoke action. "Perhaps people will go for a picnic the next
weekend," he says.
As well as intriguing the locals, the oases will be used for promotional samplings and
press events, serving Hoegaarden samples as well as its general use as a place to
relax and escape from city life without being hemmed in by four walls. Twenty-four
hour security will ensure that the installation remains intact for its time in London.
After Broadgate, the Hoegaarden Urban Oasis concept will move up north to
Manchester in August, where a similar installation of the same concept is planned for
a derelict brownfield site.